SAMSUNG 65 Inch Smart QLED TV | 65Q70T
-38%
Display Size: 65 Inches
Resolution : 3840 x 2160 (4k)
Smart / Android: Smart
No of HDMI ports: 4
No of USB ports: 2
Report Abuse
Product Description
Samsung 65 Inch Class Q70T QLED 4K Smart TV
Samsung Electronics is one of the world's largest technology companies, but they're guided by a very simple philosophy – always work for good. This philosophy has inspired us since 1947 and it continues to inspire Samsung in their products all across the board with constant attention towards innovation and sustainability. Their latest smart TV model, 65 inch Q70T offers incredible features like 4K video resolution that guarantees our customers will be able to enjoy an immersive viewing experience from any angle. We recommend you buy this product today!
Experience the full power of QLED
Powerful intelligence for precision
Quantum Processor 4K
The Samsung Q70T is an excellent choice for those who want to make the most of their viewing experience. This TV's powerful processor makes picture quality crisp and clear, allowing you to enjoy your favorite content in high definition with no lag time at all!
Increase what you like to 4K
 4K AI Upscaling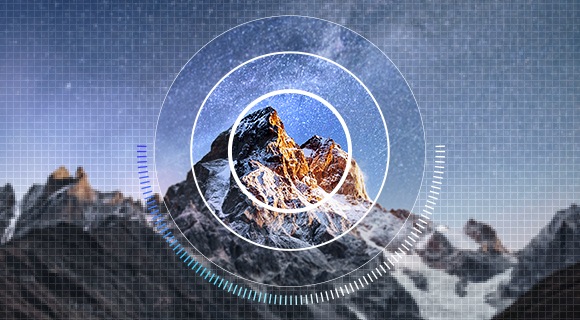 Samsung's powerful Quantum Processor analyzes any input source to reduce image noise, restore lost detail and define edges around objects or text. Now you can get 4K resolution images and sound regardless of the original video quality!
A game-changer in your pocket: Samsung's new quantum processor will take upscaling a notch higher by automatically analyzing an input before it is processed into diverse formats such as HDTV broadcasting, online streaming services like Netflix, YouTube, etc., Androids TV boxes.
With our cutting-edge technology coupled with high-performance hardware for AI computing – we are able to deliver an unmatched viewing experience through better resolutions on screen than ever before seen at home.
Surroundings change, picture-perfect
 Adaptive Picture
Experience perfect picture, no matter what time of day or content you're watching. The display has been built to adapt perfectly and automatically adjust the brightness according to your viewing environment for a more immersive experience.
One billion shades of accurate color
100% Color Volume with Quantum Dot

Quantum dot technology delivers a picture that is so captivating, you'll find yourself mesmerized by the colors displayed on the screen. With Color Volume 100%, Quantum Dot gives viewers access to an unprecedented spectrum of color while maintaining crisp and accurate images even in high contrast lighting conditions.
The perfect color tone for every scene
Dual LED
Dual LED backlighting technology is a revolutionary development in the television industry. Backlit televisions are no longer just for nighttime viewing because this new innovation adjusts to suit your mood, making them perfect for any occasion!
The latest Dual-LED and LCD technologies work together to create an immersive hi-def experience that's comparable with theater screens everywhere. This innovative setup can change its display modes at will so you always get the best possible picture quality that suits what content you're watching – be it movies or games on TV or even apps from your phone through an HDMI connection.
Don't be disturbed, catch every word
Active Voice Amplifier (AVA)
Strange noises coming from your home – like the sound of a slamming door or someone's wild party music blaring next room over can be distracting, ruining your viewing experience. AVA amplifies voices in the scene so you don't miss any important dialogue while watching TV and stay engaged with what is happening on screen.
Multiple Voice Assistants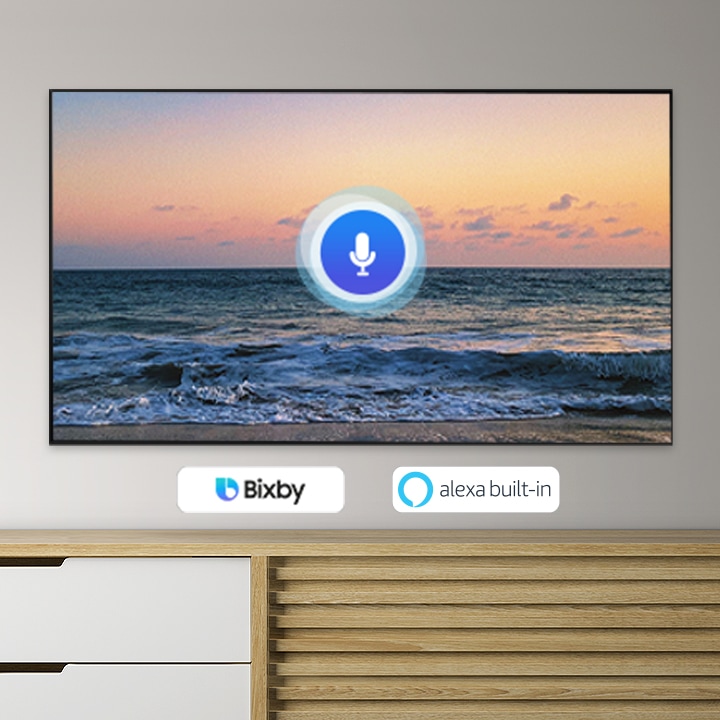 The future is now, and the possibilities are endless. Now you can control your TV with just a few voice commands; in fact this technology lets you do so much more than ever before! Simply tell it what to search for or ask about – whether it's favorite actors on new movies releasing soon or where's my phone?
The possibilities of living without buttons have never been greater thanks to Voice Control. Not only does it allow us quick access to our favorite content, but we can also use these simple commands as an alternative way of controlling things around the house too!
To see more SAMSUNG TV's click right HERE!
All in one
with OneRemote

The OneRemote is an all-inclusive dashboard for your television, with built in compatibility and a sleek design.
One remote that controls them all! The smooth and slim OneRemote automatically identifies compatible devices so you never have to worry about what's plugged into the TV or where it goes again. It also has access to every streaming service imaginable from Netflix to Hulu Plus.
Search less, enjoy more

with Universal Guide
Gadgets can be overwhelming for those who are new to technology. But our easy on-screen guide is an easy way to find and watch streaming content, movies, TV shows, live events from around the world – all in one place!
There's a lot of moving parts when it comes to gadgets these days: do you want smartphone or tablet? What about laptops with touch screens that double as tablets? And what if your budget only allows for something affordable like Chromebooks? We've got you covered–our on-screen guide is designed so users can easily find everything they need without jumping between different apps and platforms.
See multiple contents at the same time
Multi-View splits your TV screen in two, putting the content you're watching on one side and mirroring your mobile screen on the other. This means that now you can stay focused while catching up with friends without ever looking away from what's happening right before your eyes.
Build a smart home
SmartThings Dashboard

QLED is the future of home electronics. With SmartThings, you can control your lights and thermostat from anywhere in the world with just a few swipes on your phone screen!
QLED technology works seamlessly with Samsung's Smart Things to help make life easier for busy people like yourself who want their house automated enough that they don't have to worry about remembering when it needs changing or if someone left them off after work today- but still be able to live an exciting lifestyle outside; never tethered down by a boring routine.
Win more games, have more controls
Real Game Enhancer+
Catch on to all the action without any blurring or halo effects. Experience enhanced gaming with our tailor-made Hyper Reality Lens that improves your peripheral vision, which means you'll be able to see more of what's happening outside your field of view in fast-moving scenes for a clearer picture and better control over the game.